Accessing host or System i DB2 data using DB2 Connect
A DB2 Connect™ server enables a IBM® data server client on a LAN access to data that is stored on host or System i™ systems.

In organizations with large amounts of data, DB2® for i5/OS, DB2 Universal Database (UDB) for iSeries, DB2 for z/OS®, DB2 UDB for OS/390® and z/OS, or DB2 Server for VSE & VM are commonly used to manage that data. Applications that run on any of the supported platforms can work with this data transparently, as if a local database server managed it. A DB2 Connect server product, such as DB2 Connect Enterprise Edition, is required for supporting applications which access host or System i data and exploit transaction monitors as well as applications that are implemented as Java™ applets.

In addition, you can use a wide range of off-the-shelf or custom-developed database applications with DB2 Connect and its associated tools. For example, you can use DB2 Connect products with:
Spreadsheets, such as Microsoft® Excel and Lotus® 1-2-3®, to analyze real-time data without having the cost and complexity of data extract and import procedures.
Decision support tools, such as BusinessObjects, Brio and Impromptu, and Crystal Reports, to provide real-time information.
Database products, such as Lotus Approach® and Microsoft Access.
Development tools, such as PowerSoft PowerBuilder, Microsoft Visual Basic, and Borland Delphi, to create client/server solutions.
A DB2 Connect server product, such as DB2 Connect Enterprise Edition, is most appropriate for environments where:
Application is implemented using data-aware Java applets (see Figure 1).
Middle-tier application server is employed.
Transaction monitors such as IBM TXSeries® CICS® and Encina® Monitor, WebSphere Application Server, WebSphere MQ, Microsoft Transaction Server (MTS), and BEA Tuxedo are used. (See Figure 2.)
DB2 Connect provides transparent access to host or System i data through a standard architecture for managing distributed data. This standard is known as Distributed Relational Database Architecture™ (DRDA®). DRDA allows your applications to establish a fast connection to host and System i databases without expensive host or System i components or proprietary gateways.

Although DB2 Connect is often installed on an intermediate server machine to connect a IBM data server client to a host or System i database, it is also installed on machines where multiple local users want to access the host or System i servers directly. For example, DB2 Connect can be installed on a large machine with many local users.

DB2 Connect can also be installed on a Web server, Transaction Processor (TP) monitor, or other 3-tier application server machines with multiple local SQL application processes and threads. In these cases, you can choose to install DB2 Connect on the same machine for simplicity, or on a separate machine to off-load CPU cycles.

A DB2 Connect server enables multiple clients to connect to host or System i data and can significantly reduce the effort that is required to establish and maintain access to enterprise data. Figure 1 illustrates IBM's solution for environments where a IBM data server clientmakes an indirect connection to a host or System i database server through a DB2 Connect server product.

To connect to an IBM host or System i database server you require a licensed DB2 Connect product. You cannot connect directly to an IBM host or System i Data Server using a IBM data server client.

Figure 1. Connecting a client to a host or System i data server using DB2 Connect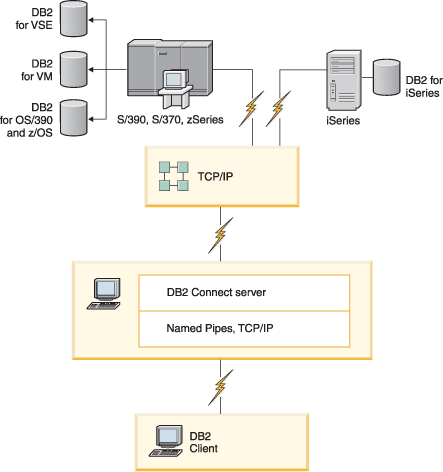 Figure 2. Transaction monitors working with DB2 Connect.
Figure 3. WebSphere® and Java server functionality in DB2 Connect
Figure 4. DB2 Connect working with Microsoft Internet Information Server (IIS)
Parent topic: DB2 Connect
Related reference
DB2 Connect product offerings